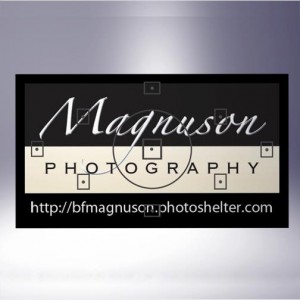 Brian Magnuson – Magnuson Photography
Plymouth MN
612-834-2190
bfmagnuson@comcast.net
Gallery at
http://bfmagnuson.photoshelter.com/index
All photography available from cloud 24/7 with secured access.
Portrait photography
Web photography
Location photography
Event photography
Photography for product presentations
Composite photography with 3D generated image backgrounds.
Display Photography
Employee Recognition
Image Editing and Compositing
Historical Displays
Archiving photographic materials
Panoramic imaging
Photo Mosaics
Photographic consultation
Creating Images which are unique to your business.
Quick – Most photos can be uploaded to a shared site the same day depending on the amount of image enhancement.
High Quality 32 megapixel low noise digital cameras.
Brian Magnuson – Magnuson Photography
Plymouth MN
bfmagnuson@comcast.net
Gallery at
http://bfmagnuson.photoshelter.com/index
612-834-2190
Recent Posts
Archives
Categories
Most Commented Posts
Quote Post

By bfmagnuson@comcast.net on March 28, 2014

1

By bfmagnuson@comcast.net on October 1, 2014

0
Another Image Post

By bfmagnuson@comcast.net on March 29, 2014

0
[Twitter Widget Error] You need to authenticate your Twitter App first. Go to Highend Options > Social Links. Read the documentation to find out more.